When it comes winter warmers there is nothing as deliciously comforting as hot chocolate. Warm, rich, velvety … it hits the spot every time. Best of all, it's super easy to make and satisfying for adults and kids alike.
Surely a hot chocolate a day keeps the colds and flu away!
We love hot chocolate so much that we've put together a list of our favourite and very easy hot chocolate recipes. Whether it's kiddie-friendly, healthy(ish), decadent or anything in-between, you're bound to find one that makes you drool.
Extra easy hot chocolate recipes
1. HOMEMADE WHITE HOT CHOCOLATE
BY GIMME SOME OVEN
Creamy, thick and suitably sweet, the white chocolate-lover will not be able to go past this hot chocolate. Made with just four ingredients, it is simplicity at it's finest.
Get recipe here: Gimme Some Oven
2. SUPER SIMPLE HOMEMADE HOT CHOCOLATE
BY HONEST & TASTY
This is the simplest hot chocolate we could find. Made with good old cocoa powder and a few extra bits to pep it up, you'll  whisk this little number up in under a minute.

Get recipe here: Honest & Tasty
3. QUICK & EASY HOT CHOCOLATE
BY GIRL GONE GOURMET
A quick and easy hot chocolate recipe with just four ingredients. In about 3-4 minutes you'll have a hot, yummy drink to enjoy.
Get recipe here: Girl Gone Gourmet
4. EASY HOT CHOCOLATE
BY BAKING MISCHIEF
This recipe is perfect when you're craving hot chocolate NOW but don't have a mix at hand. You can make this in the microwave or on the stove top in 5 minutes.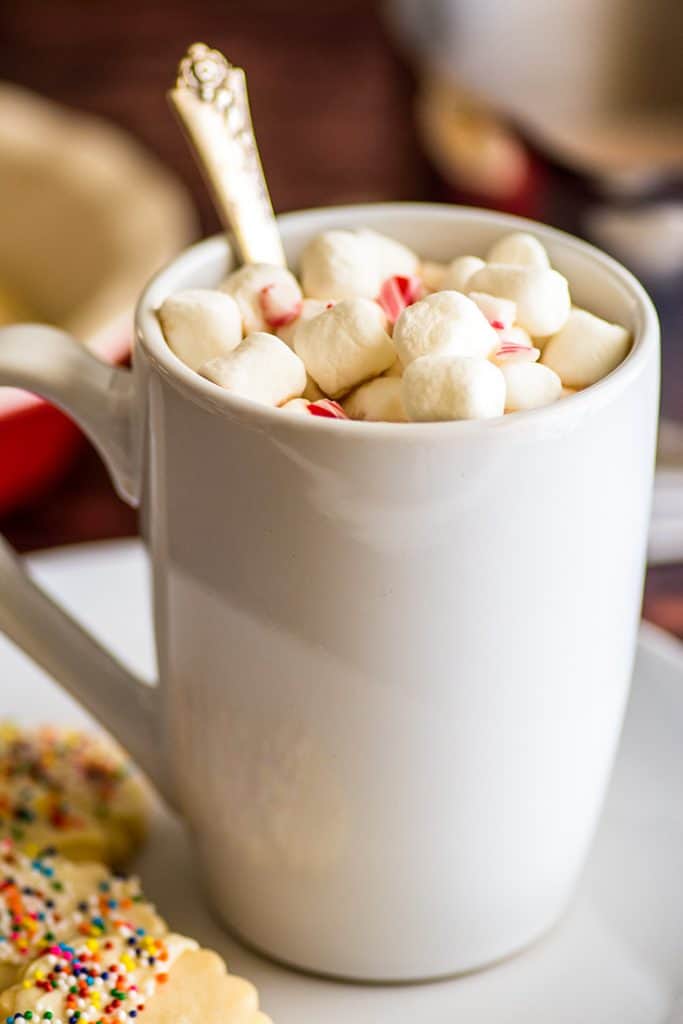 Get recipe here: Baking Mischief
Kid's favourite hot chocolate recipes
5. THE HEALTHY EASY HOT COCOA RECIPE FOR KIDS
BY LIVING WELL MOM
Here's a healthy and delicious hot chocolate recipe that kids will love. Replace sugar with honey or maple syrup and add almond milk to make it dairy-free.
Get recipe here: Living Well Mom
6. NUTELLA HOT CHOCOLATE
BY CAFE DELITES
This hot chocolate recipe is a winner for kids who are crazy about Nutella. Top with marshmallows, crushed hazelnuts, chocolate chips and extra Nutella or your own favourite toppings.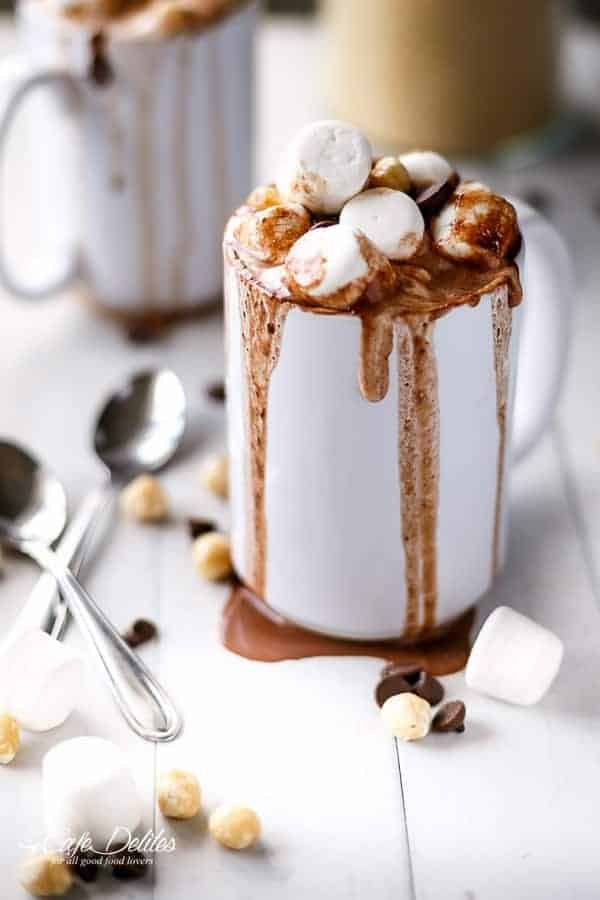 Get recipe here: Cafe Delites
7. MARSHMALLOW SNOWMAN HOT CHOCOLATE
BY KITCHEN FUN WITH MY THREE SONS
Hot chocolate with marshmallows, cookie icing, pretzel sticks and candy corn may not be the healthiest treat for kids, but it sure is delicious. Let your kids get creative making their own marshmallow snowman!
Get recipe here: Kitchen Fun With My Three Sons
8. CREAMY JUNIOR MINT HOT CHOCOLATE
BY PICKY PALATE
Do your kids like their hot chocolate minty and yummy? This recipe is irresistible with a generous helping of junior mints and topped with whipped cream and grated chocolate.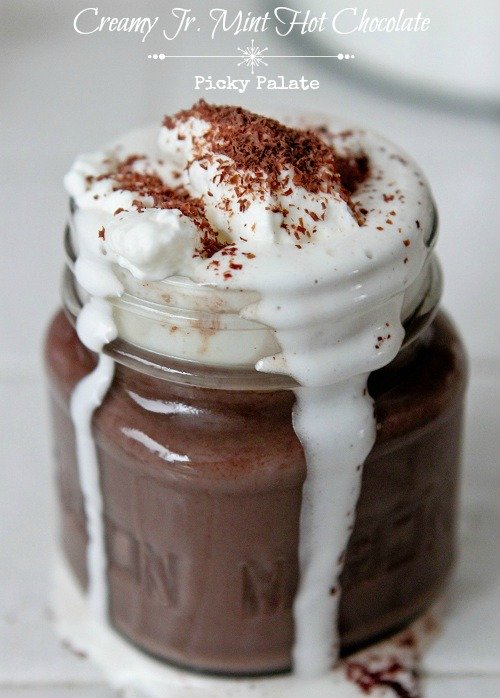 Get recipe here: Picky Palate
Kinda healthy hot chocolate recipes
9. 5 MINUTE VEGAN HOT COCOA
BY MINIMALIST BAKER
This vegan hot chocolate recipe has unsweetened almond milk, dairy-free semisweet chocolate chips and coconut whipped cream (genius!). Healthy, delicious and ready in five minutes.
Get recipe here: Minimalist Baker
10. HEALTHY HOT CHOCOLATE (5 WAYS)
BY THE HEALTHY MAVEN
Need your hot chocolate fix without the guilt? We've got you covered with this five-in-one recipe that calls for raw cacao, almond milk and bananas, among others.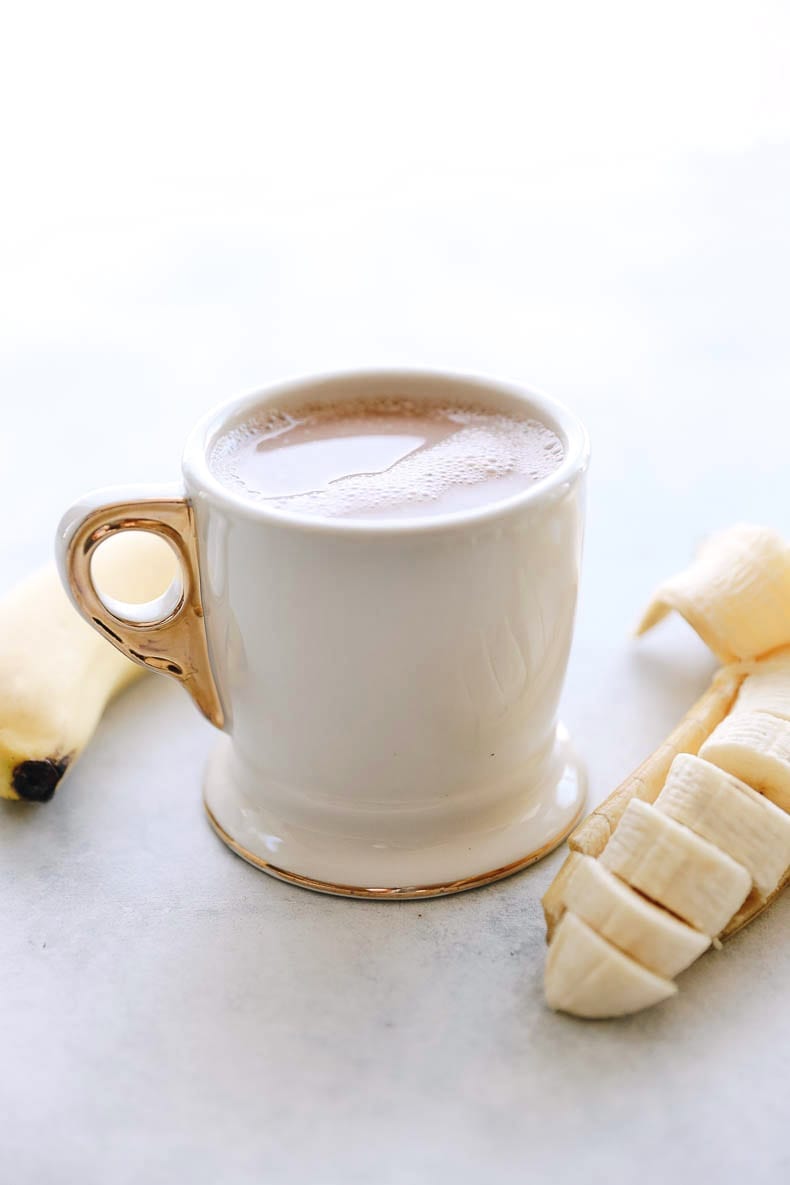 Get recipe here: The Healthy Maven
11. 35 CALORIE HOT CHOCOLATE
BY AMY'S HEALTHY BAKING
If you're counting calories and want a delicious hot drink for these chilly days, try this 35-calorie hot chocolate recipe. The cashew milk and vanilla stevia add creaminess and sweetness.
Get recipe here: Amy's Healthy Baking
Easy hot chocolate recipes for adults only
12. KAHLUA HOT CHOCOLATE
BY DAMN DELICIOUS
The splash of Kahlúa really makes this hot chocolate a treat for the grownups. Add marshmallows, whipped cream and salted caramel sauce if you like, but the main recipe calls for only a handful of ingredients.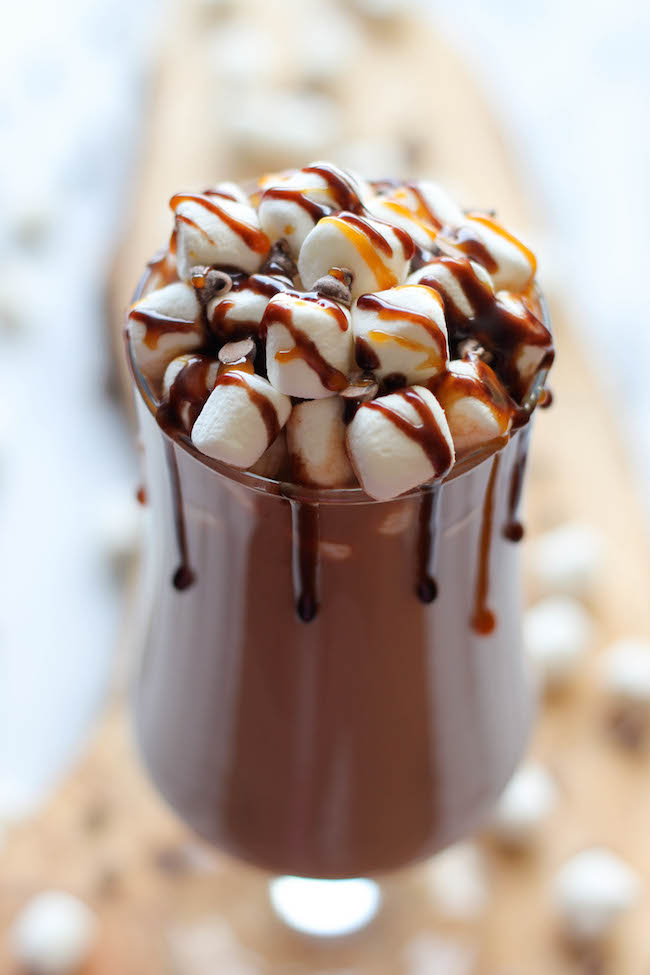 Get recipe here: Damn Delicious
13. HOT COCOA – ADULTS ONLY
BY GENIUS KITCHEN
Adults-only hot cocoa doesn't get simpler than this. Combine prepared hot cocoa (use mix to save time) with schnapps and vodka and you're all set.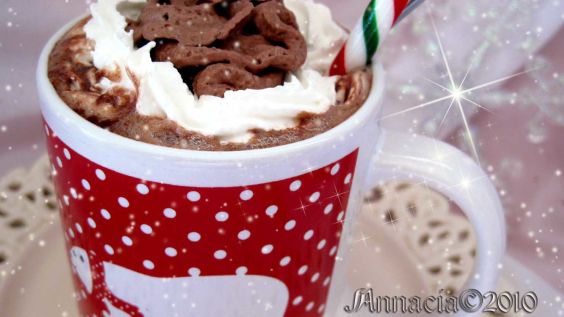 Get recipe here: Genius Kitchen
14. ADULT HOT CHOCOLATE
BY WILL COOK FOR SMILES
This scrumptious hot chocolate recipe has Godiva, whipped cream vodka and homemade cocoa. You can always use ingredients that you already have to make it even easier.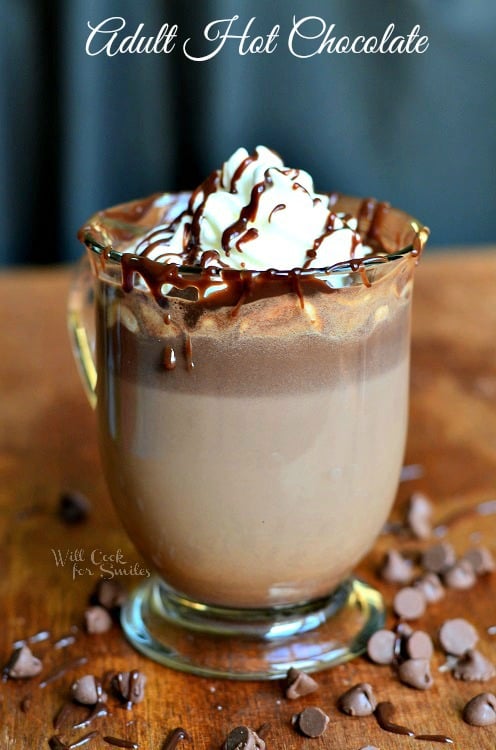 Get recipe here: Will Cook for Smiles
Very naughty but totally delicious creations
15. RED WINE HOT CHOCOLATE
BY IMMA EAT THAT
We drink red wine all the time so why not put in the hot choco as well? With only three ingredients (red wine, dark chocolate and milk), this decadent drink is perfect for parties or when guests come over.
Get recipe here: Imma Eat That
16. TEQUILA SPIKED MEXICAN HOT CHOCOLATE
BY DIARY OF AN EX-SLOTH
For adults who love their hot chocolate sweet and extra spicy, this tequila-spiked drink fits the bill. There are 10 ingredients, but it's easy to prepare and ready in about 15 minutes.
Get recipe here: Diary of an Ex-Sloth
17. CAMPFIRE S'MORES HOT CHOCOLATE COCKTAIL
BY SUGAR & SOUL
Nothing beats sitting around a campfire in winter drinking hot chocolate. Bring the campfire indoors with this hot choco cocktail that has S'mores and whiskey as the main ingredients.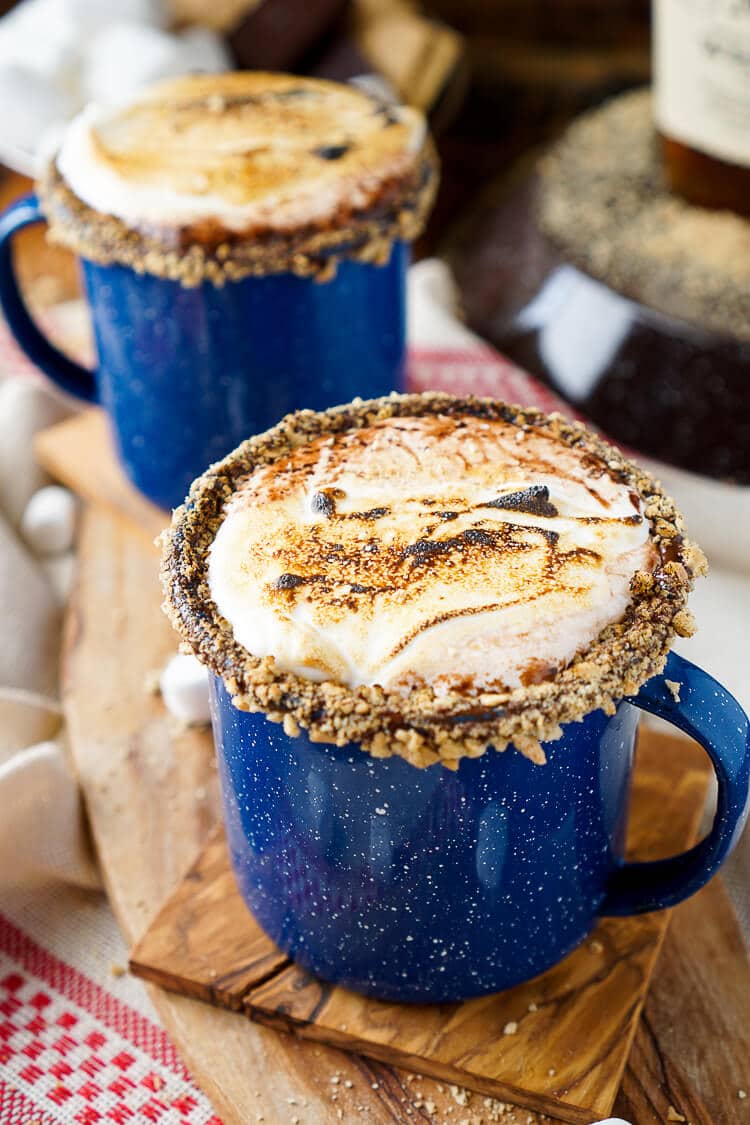 Get recipe here: Sugar & Soul
18. COCONUT RUM HOT COCOA
BY SELF PROCLAIMED FOODIE
The days are cold but your belly doesn't have to be. Make this utterly decadent coconut rum cocoa with bittersweet/dark chocolate to warm you up and keep you smiling.

Get recipe here: Self Proclaimed Foodie