You put them in your kid's lunchboxes every day as a tasty treat, but did you know poppers or liquid paperboard can earn you and your family 10 cents a pop?
That's right, most poppers, typically found in lunchboxes and school tuck shops such as Up and Go, Breaka and Golden Circle juices can be recycled through Containers for Change for a 10 cent refund.
Each year, millions of poppers are consumed across Queensland and when not recycled correctly, they end up in landfill and that's a real waste.
Containers for Change estimate that around 100 million poppers are being sent to landfill each year. Not only is it bad for the environment, but that's $10 million dollars that could be going back into the pockets of schools, individuals, and community groups.
By encouraging kids to collect poppers at home and school, parents can educate children about cleaning up the environment, and how to recycle, as well as earn a bit it of extra pocket money. This could help save up for a wish list toy or even a way to start a savings account on their behalf.
For schools,  your P&C or P&F committee can use container refunds to  raise funds  for new school equipment such as  sports gear and IT equipment all the way up to a playground; you can set your own goal!
Schools like Tanduringie State School near Maidenwell in the South Burnett have returned enough containers for their school to put towards sporting equipment, swimming lessons, a veggie garden, and even laptops for all their students. The P&C have not only kept their town clean but the funds they have raised through container recycling have been put to good use.
What's in
Not all containers are eligible for a 10 cent refund. Below is a quick list of what's in and what's out.
For liquid paperboard, this includes small poppers, flavoured milk, and drinks like coconut water between 150ml to 750ml; all your PET, plastic water bottles, soda, flavoured drinks and more; as well as aluminium and steel cans. Most containers between150ml up to 3L are eligible for a refund. All other containers can be recycled through your kerbside recycling bin.
If you're still unsure about which containers are eligible to cash in,  enter the container's barcode on the Containers for Change website  or download the Containers for Change app and use the 'eligibility scanner'.
Introducing the Popper Patrol
Poppers are just some of the 25,000 eligible containers, ranging from bottles, cartons, and cans and more that can be recycled through the Containers for Change scheme.  
More than six billion containers have been recycled since the scheme's launch in November 2018. 
Containers for Change have introduced the Popper Patrol, a friendly group of liquid paperboard characters—Harry Popper, Dolly Carton, Bruce Juice, and Annie Smith, here to help you and your family on your recycling journey.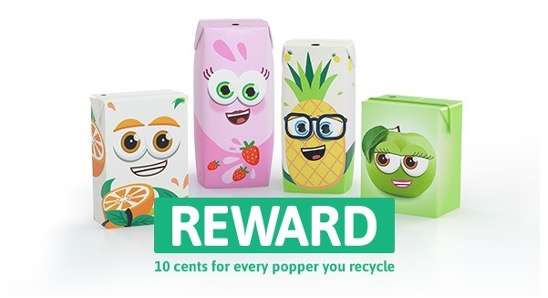 How to get involved?
Are you or your school ready to start collecting containers?
Link your PayPal or a bank account to get your hard-earned refunds paid into.
Then use the scheme ID given to you each time you or your community group returns containers.
Add Find your local refund point and link to Where to return
Watch your earnings grow!
Help save the Popper Patrol and other containers from landfill by cashing them in for a 10 cent refund at your local refund point.
To help make learning about recycling fun, Containers for Change have also released a mobile game, Popper Rescue. To reflect the scheme in real life, every popper you save from landfill earns you 10 cents in points.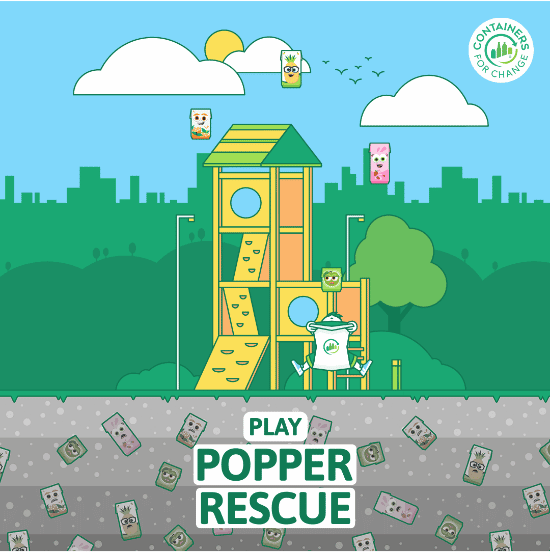 They have also created an educational  activity pack, filled with colouring in sheets and games such as xx and xx.
For more on Containers for Change visit the website or follow @4changeqld on Instagram and Facebook.
Happy recycling!